AGV systems in paper industry
Blog post by Antti Aakko
Various processes in the paper industry can and should be automated. We have identified the three most common applications for AGV systems: the roll warehouse – rolls stacked on top of each other, the roll infeed to converting/sheeting/printing, and the product pallet handling. I'll review these in more detail in this blog and describe how
AGVs
could do the job for you.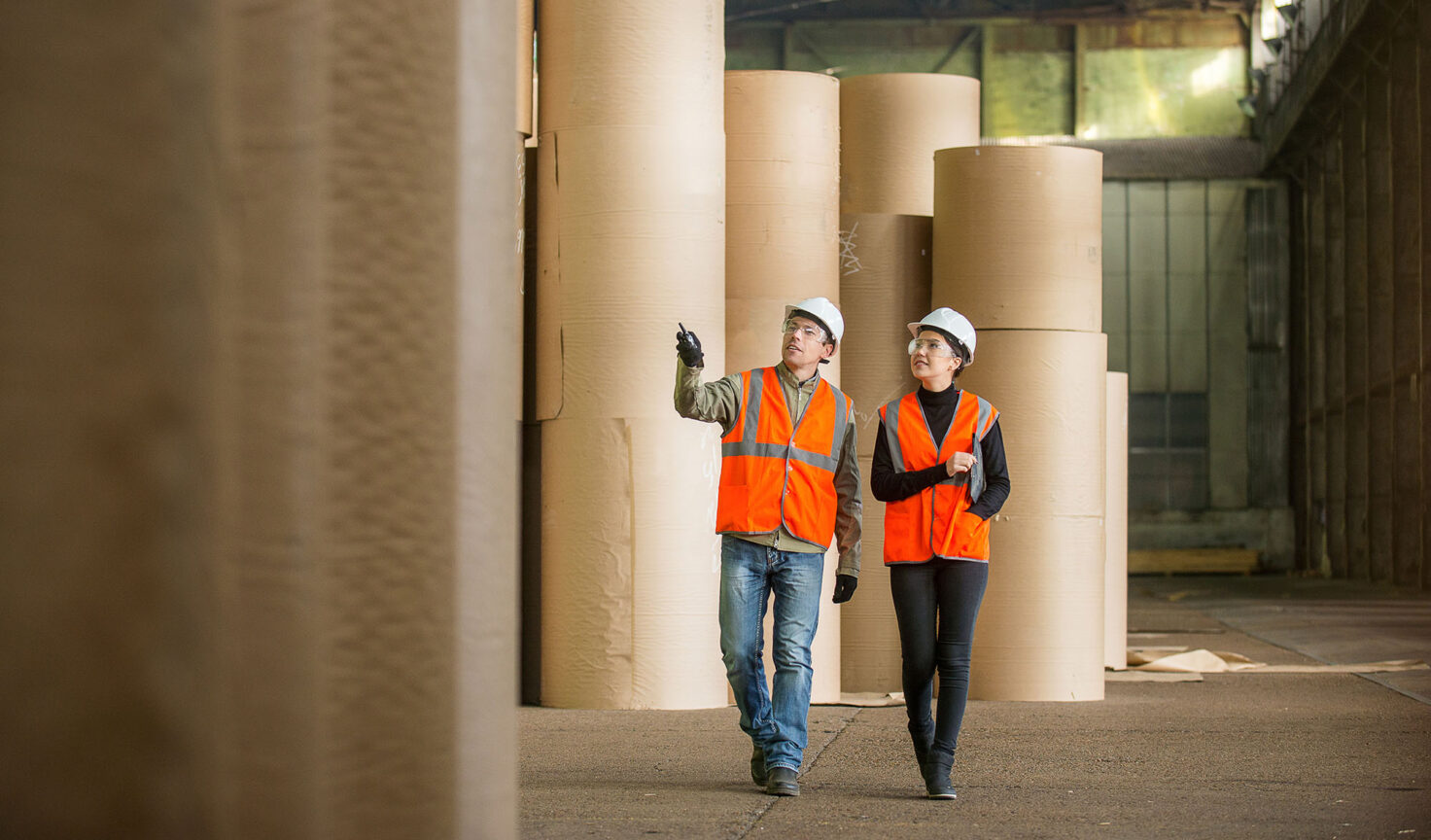 Roll warehouse AGV systems
Roll warehouse AGV systems are often either in a mill roll warehouse where rolls are stored after winding or in a converting/printing facility where raw material rolls are stored stacked on top of each other. These warehouses are somewhat similar: rolls are handled with paper roll clamp and stacked. The flows are opposite: the mill warehouse incoming flow is constant, and the outflow is more volatile, with some periods without outflow (weekends and nights). Converting and printing facility raw material warehouse inflow is usually via trailers, so it is similar to the mill outflow, and the warehouse outflow is more or less stable.
One significant difference is that from the mill warehouse, the products also leave in an upright position if they are loaded into trailers. However, if the products from the warehouse are going into sheeting or printing, they usually need to be manipulated into a horizontal position. There is a possibility to install static equipment that can do this, or the AGV system can have a tilting clamp to manipulate the roll orientation. Also, converting/printing can have "leftover" rolls that are partially used and should be stored for later use.
This warehouse needs a warehouse management system (WMS) to control the warehouse. WMS stores the exact position of rolls and sets the positions for an AGV system based on request. Read more about automating a roll warehouse here.
Roll infeed to converting and printing
The raw material infeed to production machines generally requires roll handling in a horizontal position. As rolls are often stored and transported in a vertical upright position, there needs to be tilting of the roll somewhere before this process. Tilting can be done with static installed equipment, for example, within a conveyor solution, with a manually operated forklift or with an AGV. It is also possible to store the rolls in a horizontal position at floor level or roll racking. Roll racking is a good option, for example, in an intermediate warehouse between stacked roll storage and converting machines.
Rolls are transported with reel fork AGV, equipped with a load-handling device that can handle several roll sizes. A load is picked from either the conveyor or floor position and then transported into the floor position or conveyor near the production machines. A partially used roll is sometimes returned from production machines to the warehouse. These can also be handled and stored with the AGV.
As narrow passages and human operators often characterise the production machine area, the AGV system will increase the productivity and safety of the operations.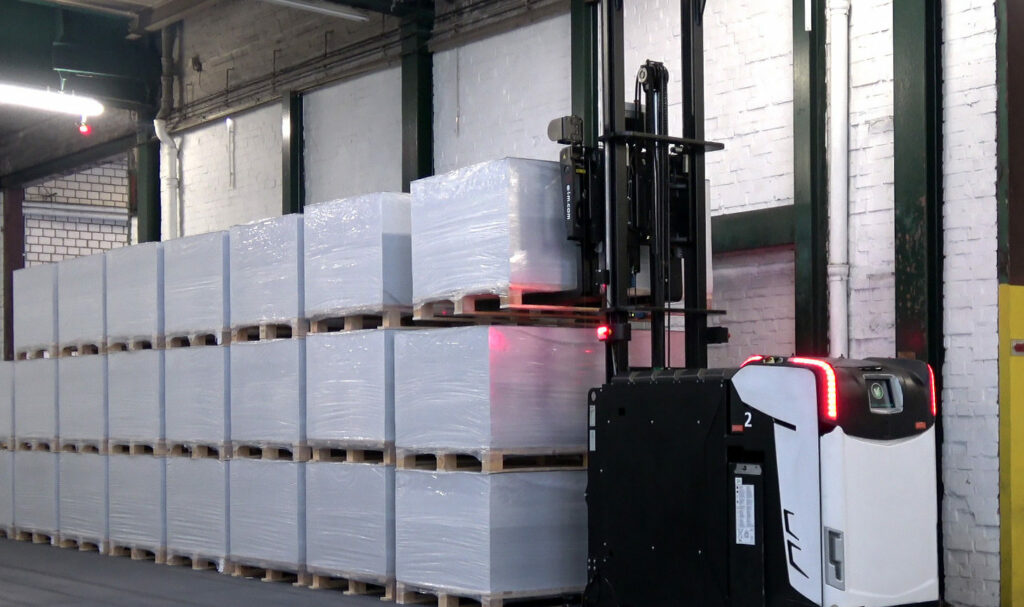 Pallet handling
After converting/printing process, products are put into pallets for storage/transportation. Handling these pallets is a task often done by AGVs. For the pallet handling process, there are mainly two processes:
Empty pallet handling
The empty pallet handling process starts from receiving the empty pallet stacks. Stacks are then usually stored in floor buffer lines. Stacks of pallets (or part of a stack) are then delivered to production machines as requested by the customer MES system (manufacturing execution system).
Product pallet handling
Product pallets are picked from production machines, either from a conveyor or floor position. The pallets can either be wrapped or without any wrapping. AGV system then delivers the pallets to the storage or wrapping line. If the pallets are without wrapping and the top layers of the pallets are loose, there might be a need to secure the top layers in some way. For example, some sheeted products start "peeling" from the top layer when airflow occurs. The method of securing the top layers can be anything between a quick weap on corners, heavier layer on top or a load support device in AGV. We have seen them all!
These were the three most common applications for paper industry that benefit from automation. Whether you'd like to automate one of these applications or some other process in your warehouse, we'll find the solution for you.
Let me know if you'd like to hear more about how to make your processes even more fluent – contact me below.