WELSER PROFILE: AGVs are a game-changer — higher efficiency, better safety and lower cost
As a result of a successful project journey, Welser Profile was able to increase its logistics efficiency, safety, and cost efficiency. After the implementation of the Rocla automated guided vehicle (AGV) solution, there has been zero damage to the pallets. "We were able to adjust and create a stacking function that is the first of its kind", says Mitsubishi Logisnext Europe's (MLE) Project Manager Martti Naunin.
Zargi, Legra, and Spedi play a special part in the Welser Profile logistics team. These co-workers never complain or laze around, and they are treated with utmost care. Names add a human touch to the vehicles, but they also emphasize the positive impact and the importance of the AGV fleet.
"We started with three AGVs, and then, due to an increase in customer demand, we bought our fourth AGV. The AGV solution is also complemented with a battery exchange system," says Harald Kirchberger, the assistant supply chain manager at Welser Profile.
An absolute game changer
Gresten, in Lower Austria, has been known for its iron production since the early 15th century. For almost that long, since 1664, the family-owned Welser company has been manufacturing steel products. Since 1960, Welser has specialized in roll forming custom-made profiles for almost any industry. With 2,500 employees worldwide and over 23,000 different shapes of profiles, Welser is the leading manufacturer of special profile tubes in Europe.
The paths of Welser Profile and Rocla AGV crossed at the LogiMAT international trade show in March 2014, when Welser was looking for a solution to automate its workflow and storage system.
Harald Kirchberger explains: "At Welser, we're used to optimizing our work and always trying to be better than the day before. When we identified a potential improvement in logistics, we decided to consult an expert about it. Together with the MLE experts, we analysed the entire process, and it proved to be an absolute game changer."
The key to a successful project
MLE's Sales Director Niels Hanssen and Project Manager Martti Naunin were a part of the project journey from start to finish. Even in an automation project, seamless cooperation between people is extremely important.
"The project introduced many features that required testing, careful consideration, verification, and even innovations. An on-site person responsible for the project is always needed for a system, and we managed to develop the solution together with the customer," Hanssen emphasizes.
Naunin agrees: "Customers need to learn about the AGV world, and Welser's project manager was great to work with. He welcomed our recommendations and was ready to make an extra effort to coordinate the decision-making in order to facilitate the most efficient solution for the customer's intralogistics."
"Only Rocla AGV was able to do that"
Welser Profile has a highly standardized production line. One of the major advantages of serially manufactured Rocla AGVs is that they can be delivered in a very short time frame, and consequently, Welser needed a solution that turned out to be the first of its kind.
Andreas Gschöpf, the head of production sector at Welser Profile, thinks back on the project and explains: "The biggest challenge was to find a supplier who offered a solution for stacking pallets in heights up to 7 metres. Only Rocla AGV was able to do that."
As a result, it was the PalletFinder function that made Rocla stand out from the crowd.
"Pallets are precisely positioned. The PalletFinder measures the stack height as well as the distance between the AGV and the stack edge. Sideways, the positioning was correct, but the other dimensions depended on very many factors," Hanssen says.
Andreas Gschöpf adds: "The biggest advantage of the AGVs is the storage height. Furthermore, in combination with our warehouse management system, they always know where each pallet is and how big and how heavy they are."
Martti Naunin summarizes: "We were able to adjust and create a stacking function that is the first of its kind. There is a mechanism in place that ensures pallet straightness and position, the standardized telescopic laser navigation detects the AGV's position, and the RouteOptimizer manages the AGV traffic."
Increase in Traffic but Zero Damaged Pallets
Rocla AGVs have been working at Welser for several years now in a highly automated area specialized for the customer's needs. The AGV fleet picks up the pallets from the roll forming lines, stacks them in their assigned spaces in the warehouse, and prepares the truck loading. Before the company implemented the Rocla AGVs, it managed a maximum of 10 truckloads per day with 66 pallets in each load.
"Now we can easily do up to 16 truckloads every day. The AGVs move all pallets from the production line into the stock, where up to 4,800 pallets are stored. Then, the AGVs move the daily truckloads to the transfer areas. The loading itself is carried out by a forklift driver just to have a final check," Kirchberger explains.
In the area where the AGVs work, traffic has increased not only due to the increased number of products but also the increased number of empty pallets, tools for assembly, as well as the replenishment of machinery and lorries.
"Manual forklifts had to be adjusted several times, so a lot of rethinking was necessary, and the employees had to work under very strict rules. By now, we have increased the number of pallets by 80% and reduced the number of crashes by 50%. There are up to 1,800 movements per day without damaging any pallets," Kirchberger says gladly.
"The system can work autonomously without any human assistance, which could be useful for weekends, for example, but at the moment this is not necessary, because we are fast enough as is."
Backed up by local support
The Rocla AGV solution is backed up by MLE's service package, providing support for software as well as hardware. It includes regular local maintenance, supply of spare parts and repairs, as well as a 24/7 help desk. "By providing continuous care and support tailored to our customers' specific needs, we ensure the most cost-effective maintenance plan and the maximum running time for their AGV systems," Niels Hanssen says.
"Our complete warehouse management system relies on the Rocla AGV solution, and we haven't had any breaks or problems since the implementation," Kirchberger sums up.
Rocla AGV Solution at Welser Profile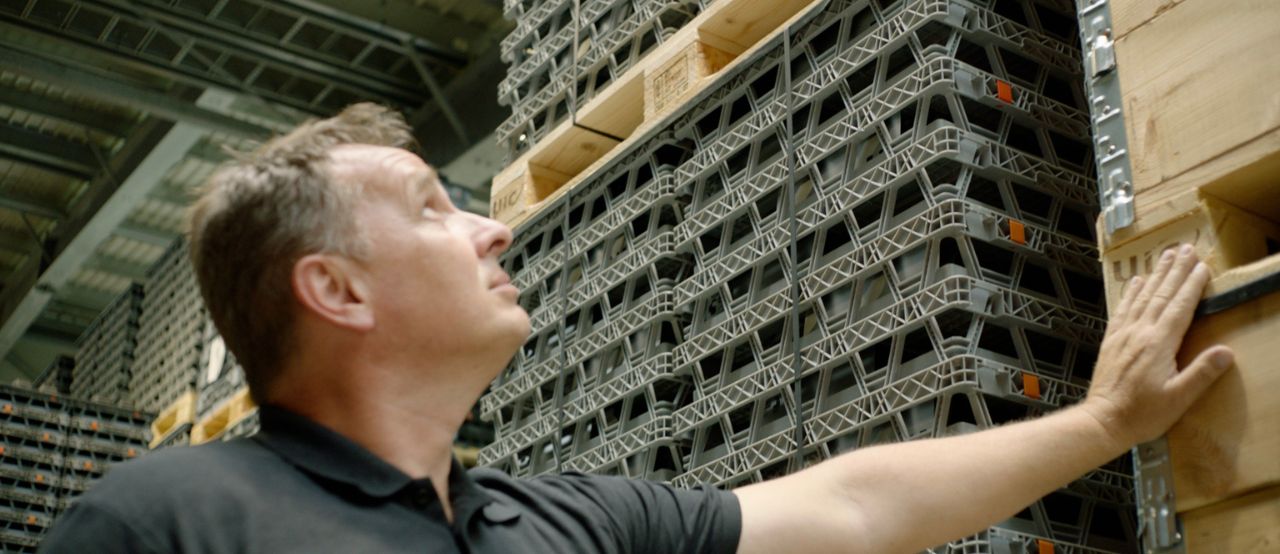 Want to know more? Contact us!
Lead Form
"*" indicates required fields