L'IMPREMERIE: French printing house achieves cost-efficiency with AGV solution
L'Imprimerie is part of the Riccobono Imprimeurs group, the leading printing house in France. One of the biggest daily newspapers in France, Le Figaro, is printed in the Tremblay-en-France site. With Rocla AGVs, L'Imprimerie is able to print in cost-efficiently.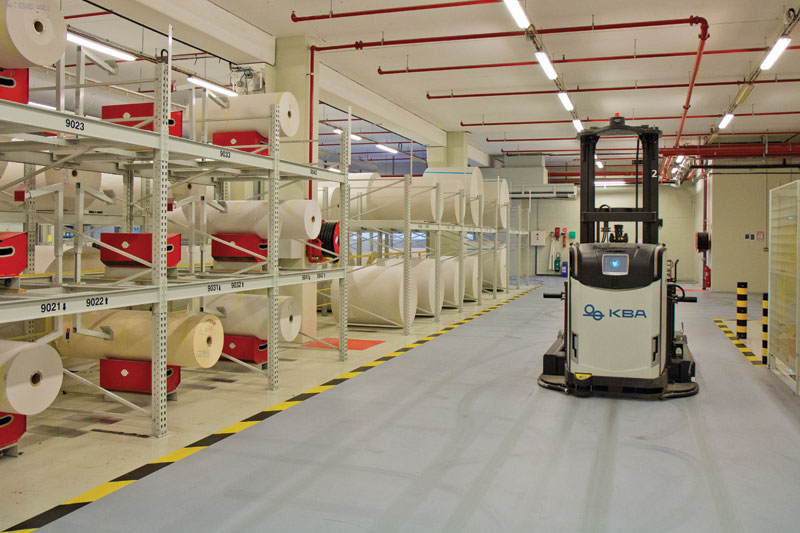 At L'Imprimerie, reel logistics is handled by six Rocla AGVs. The AGVs are interfaced with the Koenig & Bauer Group (KBA) printing press and a roll handling systems, as Rocla has collaborated with this offset system provider for over 10 years. Rocla's expertise in print house automated guided vehicle (AGV) applications has resulted in several dozen successful installations, one of which is L'Imprimerie.
The importance of environmental protection issues led L'Imprimerie to choose a KBA waterless offset system, Cortina. Rocla, with its unique AGV system, has partnered with KBA in paper printing installations for over a decade. That collaboration gave L'Imprimerie received a turnkey reel logistics project from KBA. Rocla and KBA have carried out almost 20 printing house projects together since the beginning of the 2000s. This fruitful cooperation has seen the two companies create a functioning and competitive solution for printing houses.
"Several newspapers are printed at our Tremblay-en-France site. Our biggest product is Le Figaro which is one of the biggest daily newspapers in France. We print about 300,000 copies per night," Gilles Dechamps explains.
The day of an AGV starts at noon when the production begins to prepare itself for the night. The AGVs transport the reels from the main warehouse to feed the production line. At that time there are only one or two people working in the warehouse area, so the AGVs work alone. The newspaper printing begins at 9 pm and it continues until 4 am. After the newspapers are ready for transport, the AGVs clean the garbage into trash cans.
"During a week we consume approximately 240 paper reels of five different reel sizes," Dechamps estimates.
L'Imprimerie is satisfied with the whole assembly project delivered by KBA. The project included the printing press, the AGVs, an MPS roll handling system from company ABB as the warehouse management system (WMS) and an automated waste handling system for brown/white paper and reel cores. The project provided L'Impremerie with a quick installation of AGVs, printing machines and reel handling. Also, the customer did not have to worry about interface or communication problems between different systems.
Want to know more? Contact us!
Lead Form
"*" indicates required fields