GREEN BAY PACKAGING: Innovative AGV solution maximises capacity and minimizes cost
Green Bay Packaging Inc. manufactures and supplies customized corrugated shipping containers, folding cartons and coated labels. The business philosophy of tailoring creative solutions to customer demands make Green Bay Packaging a prime USA supplier, with more than 3,000 employees in North America and Mexico. As part of the expansion of its Coated Products Operations, Green Bay Packaging constructed a new high-bay warehouse (sequencer) for paper rolls and palletized goods ready for shipment. Rocla's automated guided vehicles (AGVs)connect the warehouse to the existing coating and slitting/rewinding lines and the newly constructed production areas.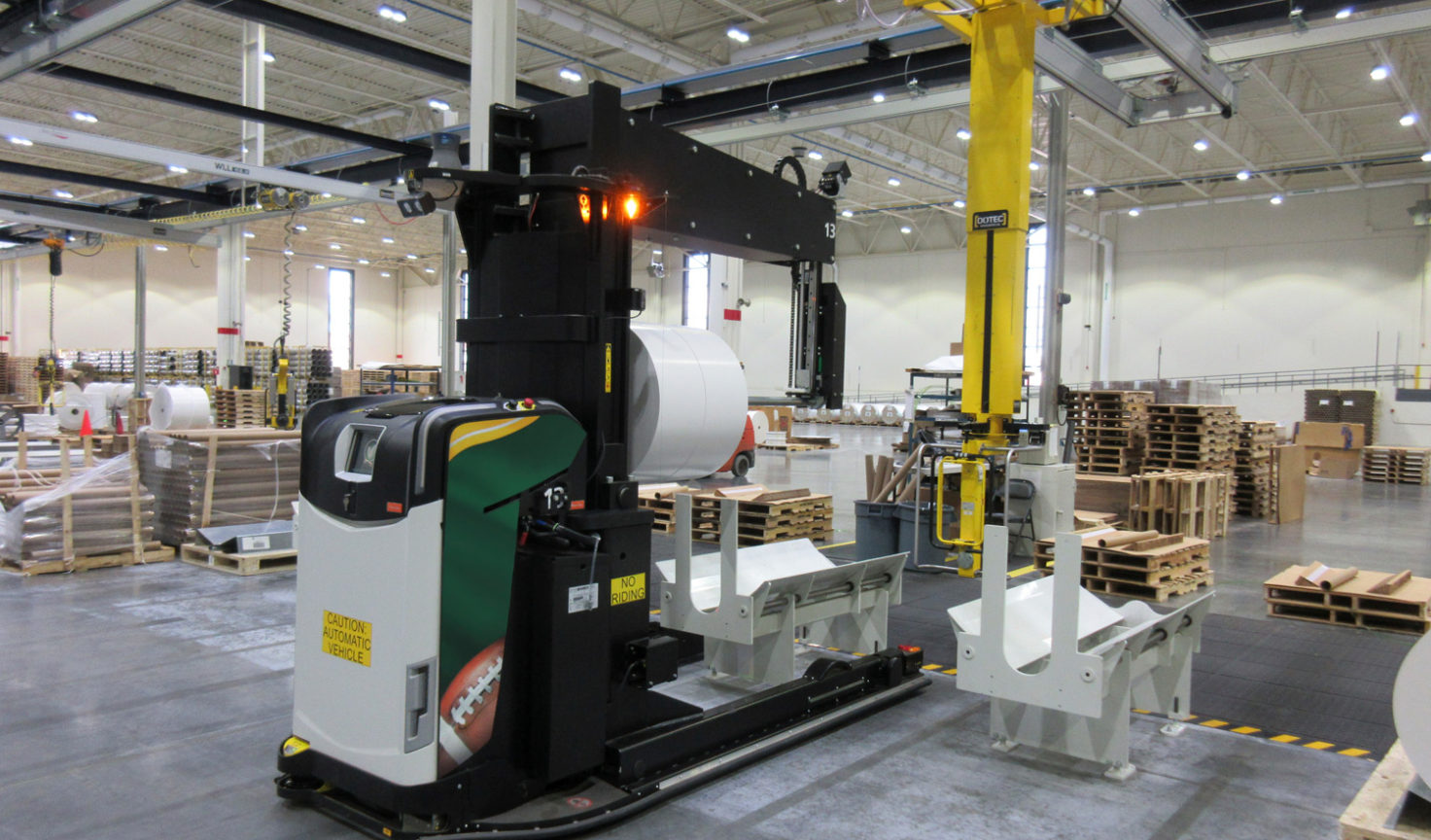 Acting as a design integrator, Rocla's partner Hörmann Logistik engineered the impressive high-bay warehouse on site; including conveyor and handling system, and two different AGV systems supplied by Rocla. Safe transportation and handling of different load units, with individual weights of up to 5 tonnes, name just a couple of the particular challenges of this project. All requirements were met with innovative developments like roll manipulators, slave board dispensers and Rocla's customized probe AGVs. Two transfer shuttles are used to connect to another production area. The intralogistics system includes software for flexible storage and retrieval strategies for the two-aisle high-bay warehouse and its three stacker cranes.
Customer application flow
To achieve high warehouse capacity and remain cost-effective, the channel warehouse was designed with two aisles which are operated with rail-guided storage and retrieval machines (SRM). Each SRM can handle loads up to 5 tonnes. Accessibility to the central rack from both sides guarantees redundant supply to production. The shelf modules are designed to fit variable load dimensions. This allows a dynamic and optimal use of the available storage capacity.
Rolls needed for production are made by material requests to the Hörmann intra Logistics System. Hi LIS evaluates which roll is most easily accessible by one of the S/R machines, and avoids the relocations typical for channel warehouses. After the SRM has retrieved the roll, it is forwarded to another gantry crane for unloading the roll from the system pallet and placing it down for pick up by Rocla's AGV. Rocla AGV drives the roll to the unwinder where it is called to in the manufacturing area. The return journey of the converted rolls to the warehouse takes place in reversed order and on the same conveyor system.
Probe AGV for slit rolls
Positioning of the packaging area remotely from the slitter-rewinders allows for flexibility and effective handling of customer pallets. Rocla probe AGVs, with a load handling device, are used to bring slit rolls from the slitter-rewinders to the packaging area. As the load handling device required for this purpose was not available on the market, Hörmann Logistik and Rocla designed a customized solution. This ground-breaking design is able to transport a set of rolls with a total width of 1,400 mm and a weight of 2 tonnes from the slitter-rewinder to different locations with the packaging area. This feature uncouples slitting and packing process and allows for order picking of special customer rolls without multiple handling.
Highest availability
The redundant warehouse and material flow concept, provides an optimal availability. Every key function within the warehouse is doubled. If only one gantry crane would be operable the entire material flow process will be automatically adjusted, since the surface transports are executed by Rocla's AGVs. The AGVs are constructed in the same way and can operate in any production zone.
AGV transport with production data
The Hörmann intra Logistic System Hi LIS not only coordinates material movements between warehouse and production. A special interface between Hi LIS, Rocla AGVs, production machines and the conveyor system communicates roll data and other production data parallel to the physical transport to assure the integrity of information in the customer network.
Project targets
mixed storage of palletized roll paper stock and finished goods
system redundancy – highly available systems
fully automatic process flow
just-in-time supply to production lines
safe and careful handling of products
Project realization
two-aisle rack-supported high-bay warehouse
overall dimensions 176 x 26 x 25 m (L x W x H)
storage in a depth of 2 to 6 rolls
storage of different pallet types (non-returnable pallets)
warehouse capacity: 12,800 pallets or 6,370 rolls
3 automatic SRMs (aisle bound) with 2 channel vehicles per unit
comprehensive conveyor system with pallet measurement
3 automatic gantry cranes for rolls with 2 fully redundant units
4 Rocla AGVs for horizontal roll transport (5 tonnes capacity)
3 Rocla AGVs with probe for a slit set of customer rolls
distribution shuttles with PowerCap technology for crossing of AGV or fork truck routes
Hörmann Hi LIS warehouse management and control system, plant visualization
Want to know more? Contact us!
Lead Form
"*" indicates required fields