Checklist for implementing an AGV solution
Are you considering using AGVs to automate your logistics facility? We'll be glad to help you make this a reality. First, however, there are some important aspects to consider. Our expert staff will guide you through all of these when you contact us to discuss your needs.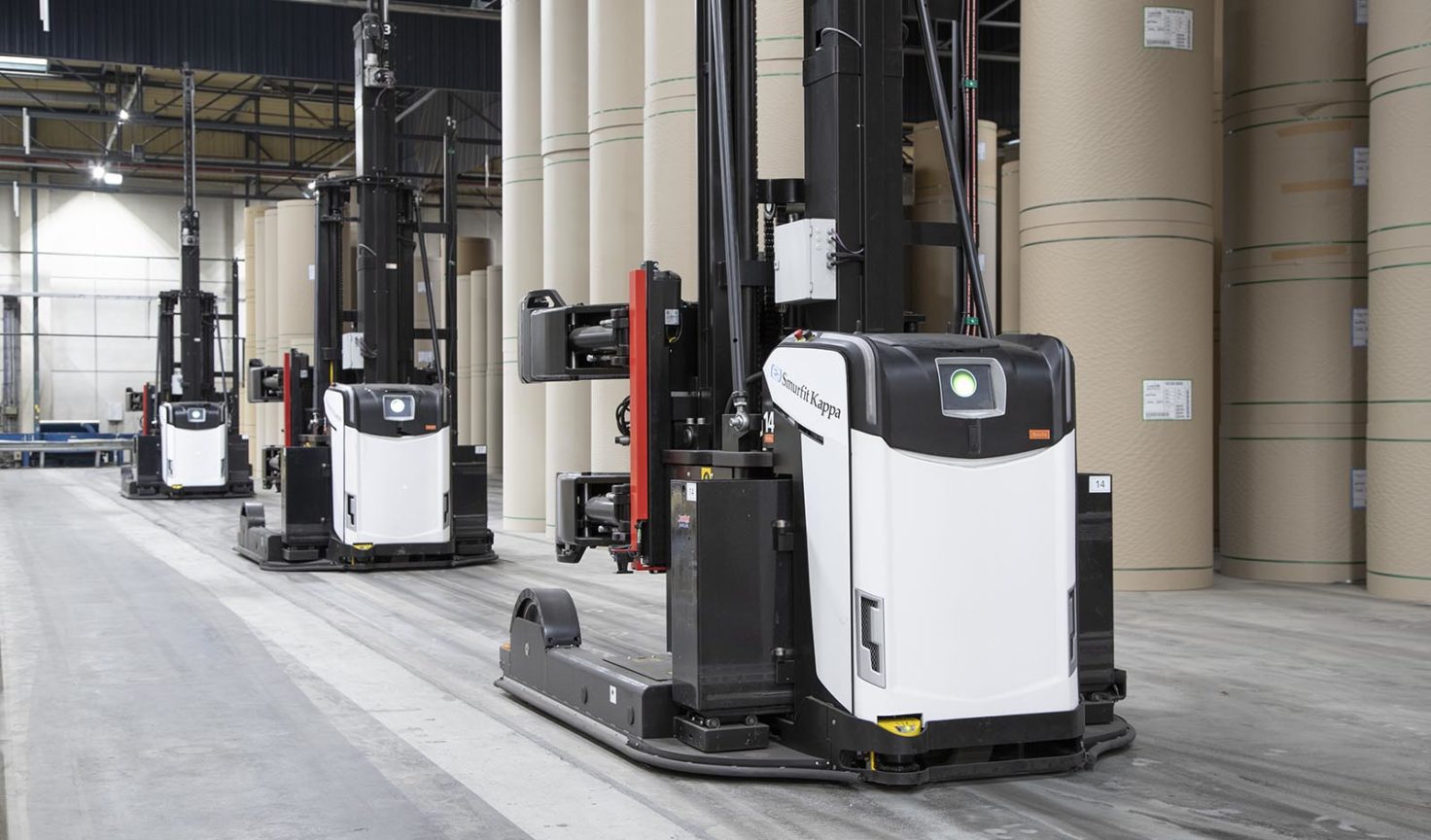 What are our IT needs and capability of your current Warehouse Management System (WMS)? Deploying an AGV solution is always an IT project to a certain degree. Typically, the AGV system will have an interface with your existing Enterprise Resource Planning (ERP) and/or WMS software, which will be acting as a host to the AGV system and giving transport orders to our FleetController software suite. Think about what aspects of your internal IT you want to communicate with your future AGV solution. We can also provide you with a WMS of our own if needed. This is because even if a WMS is used in manual operation, it is not always capable of handling inventory at the pallet level as required for the AGV system, for example.


Do we have the right environment for AGVs? AGVs cannot function in any environment whatsoever. They require temperatures above zero Celsius, and flat, crack-free floors, preferably of concrete rather than asphalt. Their numerous optical sensors also need low non-condensing humidity.


Do we understand the process and is it suitable for automation? The ideal workflows for automation are repetitive ones. This is where AGVs can help you achieve the greatest efficiencies. Ask yourself what process you want to automate, and whether it is of a repetitive nature. AGVs cannot solve lack of space issues and tend to need more space due the safety tolerances and regulations. Some processes may need to be changed or adjusted to be better suitable for automation. However, we at Rocla will be glad to help you assess your processes and advise you on what you can and should automate.


What loads do we transport and what is the layout of our facility? The loads transported and the layout of the logistics facility, such as load weight, required lifting height and aisle width, affect the type of vehicle used. For example, our ATX vehicle has a load limit of 1,250 kg. We can help you choose the best vehicle model from our extensive modular vehicle range, based on the specifications and needs of your application. We can also analyse your facility and layout to ensure you have the necessary operational space for AGVs.


Do we have enough space for charging stations? This is a relevant question if you are looking for most common energy solution, opportunity charging, meaning when AGVs automatically travel to charging stations when their batteries are low and when they are idle. An alternative solutions is battery exchange system. Because in any event charging station requires some space outside normal AGV travel routes, we will be happy to analyse your layout.


Which navigation method do we need? There are several methods available, the most common and most accurate of which is laser navigation. We will choose the right method for each case and application for you.


When do we need the AGV solution to be delivered? Delivery time of AGVs depends on the type and number of vehicles, warehouse layout and overall project complexity. It is easy to underestimate the time needed for full deployment of an AGV solution. Typically, implementing an AGV solution takes at least six months but can be close to one year in more complex systems.


Are we aware of all the steps on the road to deploying our AGV project? We have deployed successful AGV solutions to facilities worldwide for almost 40 years and have experience and a proven roadmap in place which includes you, the customer, throughout.The first step is a pre-study, consisting of a survey and process analysis.

This is followed by a layout and vehicle count study to determine how many vehicles you need.
These are followed by contractual steps: starting with the budgetary proposal and proceeding to reviews and mutual understanding, then a binding proposal, typically following an order and agreement.
Then the planning and design phase begins: the final vehicle design is made, component purchasing started and system design and programming done and simulated.
Before the delivery to the customer, there is always a factory acceptance test, to which the customer is also invited. Vehicle assembly occurs in parallel with the planning and system design phase and system is programmed, simulated. At this stage, FleetController software is typically remotely installed and interfaces tested before delivery and on-site activities start.
The installation phase includes reflector installation (in laser navigation) charging stations and field I/O installations. It is then time for the AGV solution to be commissioned on your site by testing and fine turning load handling positions.
This is followed by training and productive use, with our engineers on standby to fine tune the solution and ensure good working order.
Following a site acceptance test, including a performance and availability test, Life Cycle Services are ready to step in to ensure you retain the value of your investment.
We hope that this article has been informative about the steps towards automating your material flow. Please do not hesitate to get in touch if we can answer any more of your questions.
Want to know more? Contact us!
Lead Form
"*" indicates required fields