Reduced risk and control over asset value: Life Cycle Services
A Rocla AGV solution is a valuable monetary investment in your company. It is not a one-off purchase of machinery, but a financial commitment aimed at smoother, reliable material flow through automation. As such, it is an asset that will depreciate disproportionately unless properly managed. The solution consists of a fleet of vehicles, FleetController software, and our Life Cycle Services. This last element is designed to maintain the value of your investment, your assets, throughout the life cycle.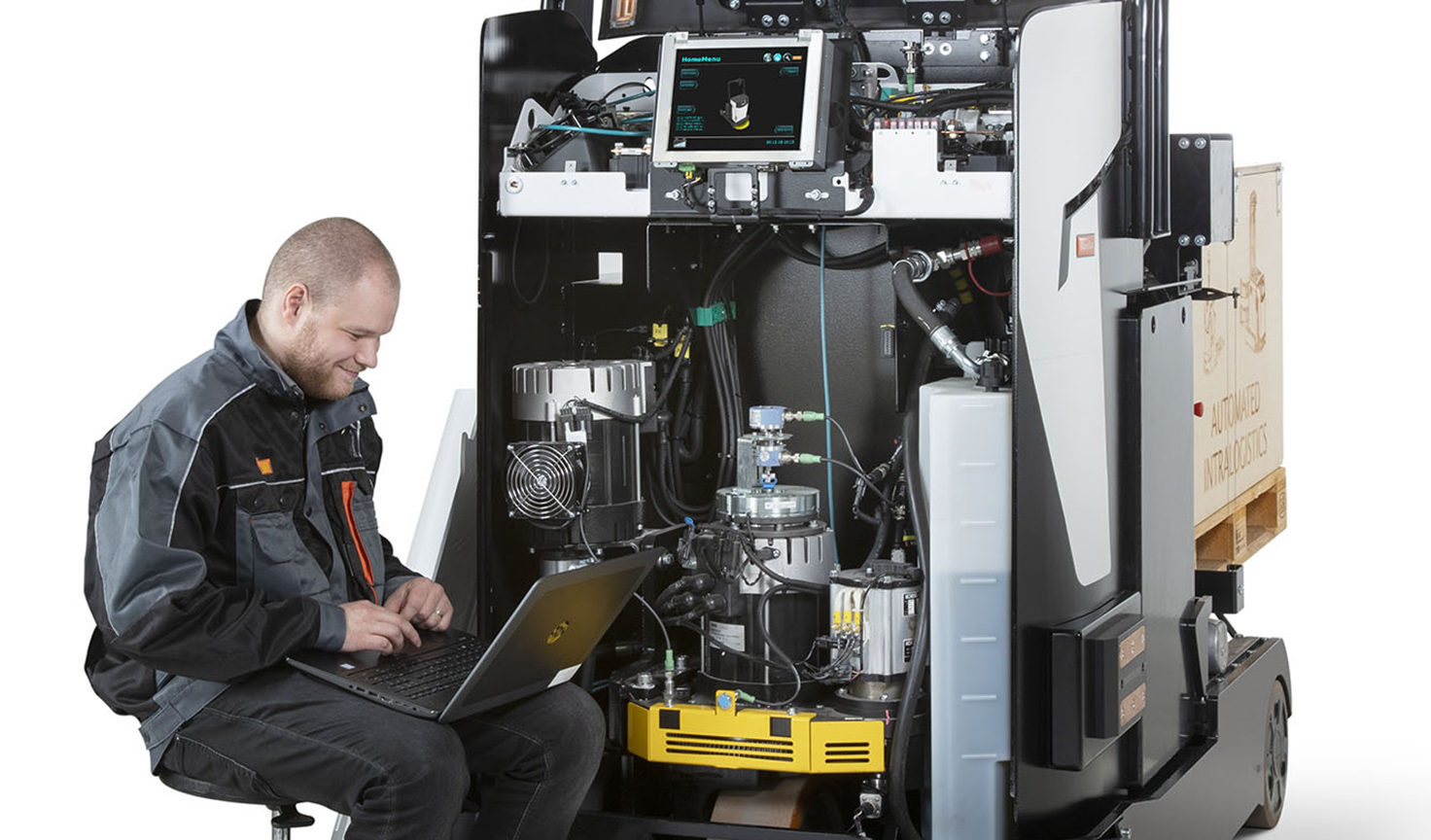 Life Cycle Services means serving you and your assets to ensure longer life and optimize the total cost of ownership. We do this by helping you choose the right service package and service agreement. We offer four levels of service agreement, ranging from Essentials to Guaranteed. What they all share is a maintenance audit, which identify any needs for repair. The aim is to keep your assets in the active phase of their life cycle for as long as possible. If equipment is not updated and upgraded while in the active phase, full support can no longer be provided for it. At that point, modernization services are an option to enhance your assets' service life. If assets are not modernized, they eventually need to be discontinued and then replaced. Instead of allowing these unnecessary costs to occur, our Life Cycle Services create a model in which the right maintenance and repair is naturally built in as part of your investment.
The aim is to keep your assets in the active phase of their life cycle for as long as possible.

Your logistics facility will benefit in several ways from the Life Cycle Services approach. Firstly, your fleet will show increased availability, thanks to the right maintenance at the right time. In fact, the Guaranteed service package even offers an uptime guarantee for your AGV fleet. A service agreement as part of our Life Cycle Services also enables quick support: over 90% of the service requests we respond to remotely are resolved. If that does not solve the problem, we can have an expert on site within 24 hours. Life Cycle Services makes your operations more cost-efficient: for example, the right spare parts are ordered at the right time. Finally, you can save capital costs, as Life Cycle Services provides options such as freeing up your working capital by choosing to lease your spare inventory. What is more, Life Cycle Services cover more than the fleet of vehicles: some service packages include maintenance of FleetController software, which gives you the best order and route optimization along with security.
At Rocla, we understand how important and valuable your investment in logistics automation is. We know that your company wants to achieve a rapid return on investment and keep the entire solution reliable and available throughout its life cycle. That is why we've developed Life Cycle Services: we want to avoid a "rip and replace" approach. Some evidence of our commitment to long, value-retaining life cycles is the fact that the solutions we deliver can serve for up to 20 years.
Would you like to learn more about the holistic, value-retaining Life Cycle Services packages? Get in touch with one of our experts today!
Want to kn ow more? Contact us!
Contact forms
Form for contacting contacts
"*" indicates required fields